I sat in the waiting lounge of the airport and switched on my laptop, while Vinit went to get coffee for us. I logged on to check my emails and saw an email from my best friend Natasha. She asked me how I and Vinit are doing together, and how our honeymoon was. I smiled as I read her email and leaned back in my seat, remembering how I married Vinit.
********************************
Our's was an arranged marriage, where I got to meet Vinit first time on our engagement day. We talked over phone for some 2 weeks and then got married. During one of such conversation Vinit asked me, where I would like to go for our honeymoon. I wanted to go near sea, some romantic place, some place which is rich in art and culture and can satisfy the art lover in me. On the other hand Vinit having a love for photography, wanted to go to some place which has

picturesque beauty, amazing landscapes, lush green parks & wild life sanctuaries. After a lot of searching we finalized on Melbourne "the cultural capital of Australia". When I came to know that we will be going to Melbourne, I watched one of my favorite Bollywood movies "Salam Namaste" once again, as that film's entire shooting was done in Melbourne.
Two days after our wedding we started for our honeymoon. We were not very distant from each other, but still we were in the exploring phase of our relationship. After some 20 hour long flight we reached Melbourne. We both were very excited and were looking forward to an eventful day. We decided to start our sightseeing by paying a visit to Melbourne museum, as there is no other better place than museum to know the history and culture of a city. I was taking keen interest in knowing the antiquity of the city, while Vinit looked little board. To cheer him up we went to the IMEX cinemas inside the museum, it was really huge and gave a real life experience. That day we also visited St Patrick's Cathedral. It was a place soaked in silence and absolute beauty. When I saw Vinit on his knees, I discovered the spiritual side of him. Unlike many guys of today who don't believe in god, I got a man who likes to worship.
Next day Vinit took over and planned to go to Melbourne aquarium. This was first time for me to see
such big aquarium. And 360 degree Oceanarium was a real treat indeed. I held Vinit tight in excitement when I saw shark, for which he made fun of me, saying that I was scared of the shark. After the aquarium we had some quick bits and headed to the
Crown Entertainment complex
. That place had some luxury world class hotels. I was amazed to see the structural masterpiece, when Vinit said "let's do some gambling, what say?". In few minutes we were inside one of the casino, we had so much fun there. I gambled for the first time in my life and won too. I was very happy and teased Vinit for losing twice. Now we were even on the teasing part, our comfort level was increasing.
Our third day in Melbourne was dedicated to nature. We left early morning for the
Healesville Sanctuary,
best place to see Australian wildlife in their natural surroundings. We got to see koalas, kangaroos, wombats, emus, dingoes and many more. Vinit was enjoying the wildlife photography extravagance and I was busy admiring the nature and Vinit's photography. After lunch Vinit said that he has a surprise for me and we headed to
Sovereign Hill.
It was just like stepping back in time of Goldrush during the 1850s. At night we got to see the sound and light show 'Blood on the Southern Cross' - the legendary story of the 1854 Eureka Uprising, a great Australian drama. I loved it, and Vinit was happy that I did.
Melbourne hosts numerous festivals throughout the year. And as we were in Melbourne in the month of March, we got to witness the Moomba festival. This is Australia's largest free community festival, including the Moomba parade, crowning of Moomba monarchs, fireworks displays, and river activities including watersports, water floats, the birdman rally, as well as live music and bands. We had so much fun there, and explored the fun side of the city and each other.
On fifth day we took
a tour on the
City Circle Tram
. The city circle tram was a free-fare tram service. We enjoyed our time in the tram and talked about various architectures we saw. After this we went to
Queen Victoria Market.
This was a real shopper's paradise. We did bought gifts for friends and family and I did a bit of book shopping too. I was shopping nonstop and Vinit looked adorable holding my shopping bags as a caring husband. When I looked and him and said hesitantly "looks like I shopped little too much." He laughed and said "Don't worry, shopping is every woman's birth right. Buy whatever you like".

I found him even more loveable, when he had no issues with my shopping :)
Next morning we woke up really early, as this was our last day in Melbourne, we did not wanted to miss the
Balloon Flights over Melbourne.
That was just awesome.

We were enjoying the thrill of hot air ballooning over Melbourne at sunrise. We saw the
Melbourne Cricket Ground
from top and Vinit informed me that this was one of the best venues for cricket in the world.
He told me that 2006 common wealth games were held in Melbourne and that is when he discovered much in detail about the city. I was really impressed with his knowledge about the city.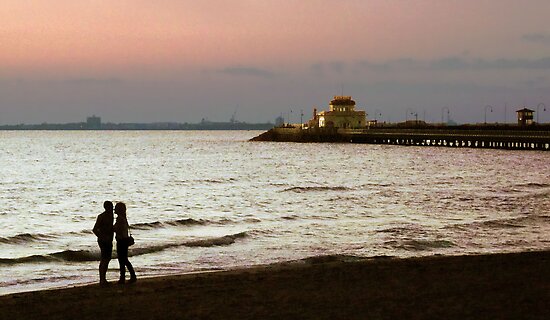 Later that day we went to
St Kilda Beach
,
we took a ferry tour and then came back to the beach to see the sunset. That was a lovely evening, and that being our last night in the city we decided to take a walk along the beach. We talked about our likes-dislikes, friends & family, hobbies, school and college days. When I got tired walking and requested Vinit to sit somewhere, we sat on the beach, admiring the beautiful sunset.
I was sinking the beauty of the sea and the sunset, when Vinit said something. Because of the roaring sea I could not here what he said and faced him to ask pardon. Due to wind and my hair were disturbing me, Vinit gently tucked my hair behind my ear, and held my face in his hands. That was one of the best moments of my life; he kissed me softly and said the 3 magical words in my ear. I blushed, and hide my face in his chest in agreement. That was the best day of my life, the day I always dreamed of. Melbourne became a city which not only gave us beautiful memories but introduced us to our love for each other.
*******************************
I was lost in my memory lane and was smiling to myself when Vinit's touch brought me back in present. "What happened honey, what are you smiling at?" he handed over the coffee to me.
I sipped my coffee and started typing my reply to Natasha. I told her how amazing this one week was and how wonderful person Vinit is. I told her that I am bringing back lots of lovely memories from our Melbourne trip, and I promised to give her more details when we meet in person. I suggested her to plan her honeymoon also in Melbourne by writing

'…it's your time to visit Melbourne NOW!' and then clicked on the send button.
Image courtesy: Google Images